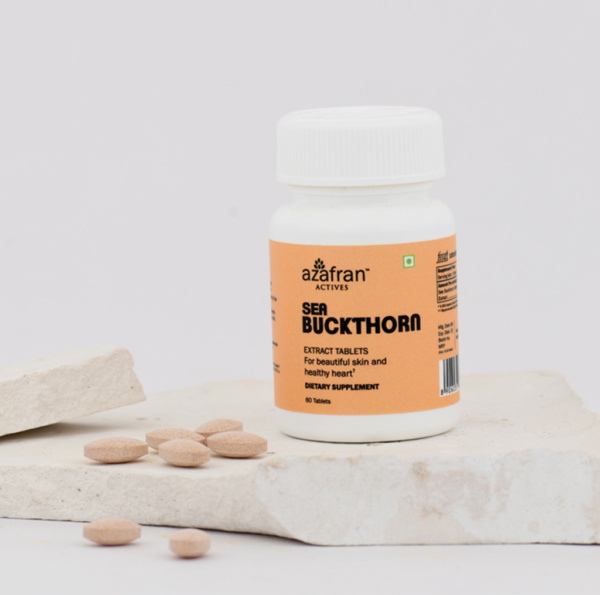 Sea Buckthorn Extract Tablets
• Suffices a day's worth of nourishment from vital minerals & vitamins
• Packed with antioxidants & biotin that promotes healthy skin, hair & nails
• Helps promote cardiac health & cardiovascular wellness
• Helps improve the immune system & blood pressure
• Promotes healthy weight loss
• Promotes radiant & healthy skin
• No adulteration, chemicals or artificial colourants


An elixir of long life and anti-ageing, for years, the leaves of the sea buckthorn have been consumed, prescribed to reduce the signs of ageing and boost immunity. We bring you this elixir with Azafran Sea Buckthorn Extract Tablets that 
 Also known as the "lemon of the north," Sea Buckthorn is a superfood that many do not know about. Extracted from small orange berries, our tablets are true vitamin boosters. Composed of Vitamin B1, B2, B6, C and E, antioxidants, protein building blocks (Amino Acids), fatty acids and minerals, which improves blood pressure by lowering cholesterol and controlling blood vessel-related diseases. Also helps with weight loss, dry eyes, acne, hair growth and psoriasis. Don't forget in conjunction with a fitness plan & a healthy balanced diet!
 Attain the Tibetan secret to beautiful skin and a healthy heart with Azafran Sea Buckthorn Extract Tablets & give yourself a healthier tomorrow, today!
We are Certified Organic, vegan, & cruelty-free. All our products are made with carefully sourced ingredients for effective, targeted action and a conscious lifestyle for you and your loved ones. 
Instructions: 
Store in a cool and dry place below 25°C
Take 1 tablet daily 
For adults only (18 years & older)
Keep out of reach of children
 How to use: Simply dissolve in a glass or bottle of water & enjoy a tasty nutritional drink.
 Note:   It should not be used to replace a well-balanced diet & healthy lifestyle. 
Do not exceed the recommended daily dose of 1 tablet per day. 
Not recommended for children, pregnant or breast-feeding women as it contains 75 mg caffeine per tablet. You are advised not to consume more than 400 mg of caffeine per day from all sources. Do not take in combination with ephedrine or other stimulants. If you are pregnant, nursing, taking any medications or have any medical condition, please consult your healthcare practitioner before taking any dietary supplements. 
Simply dissolve in a glass or bottle of water & enjoy a tasty nutritional drink.