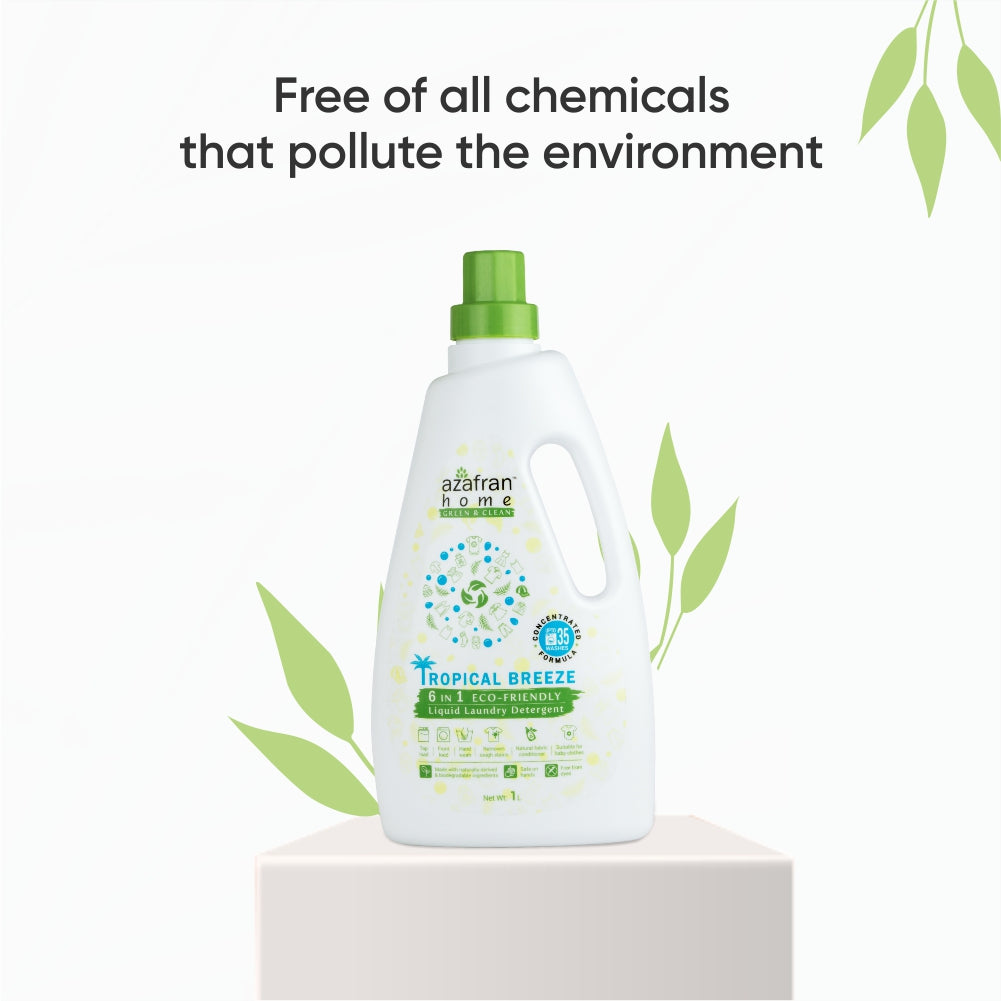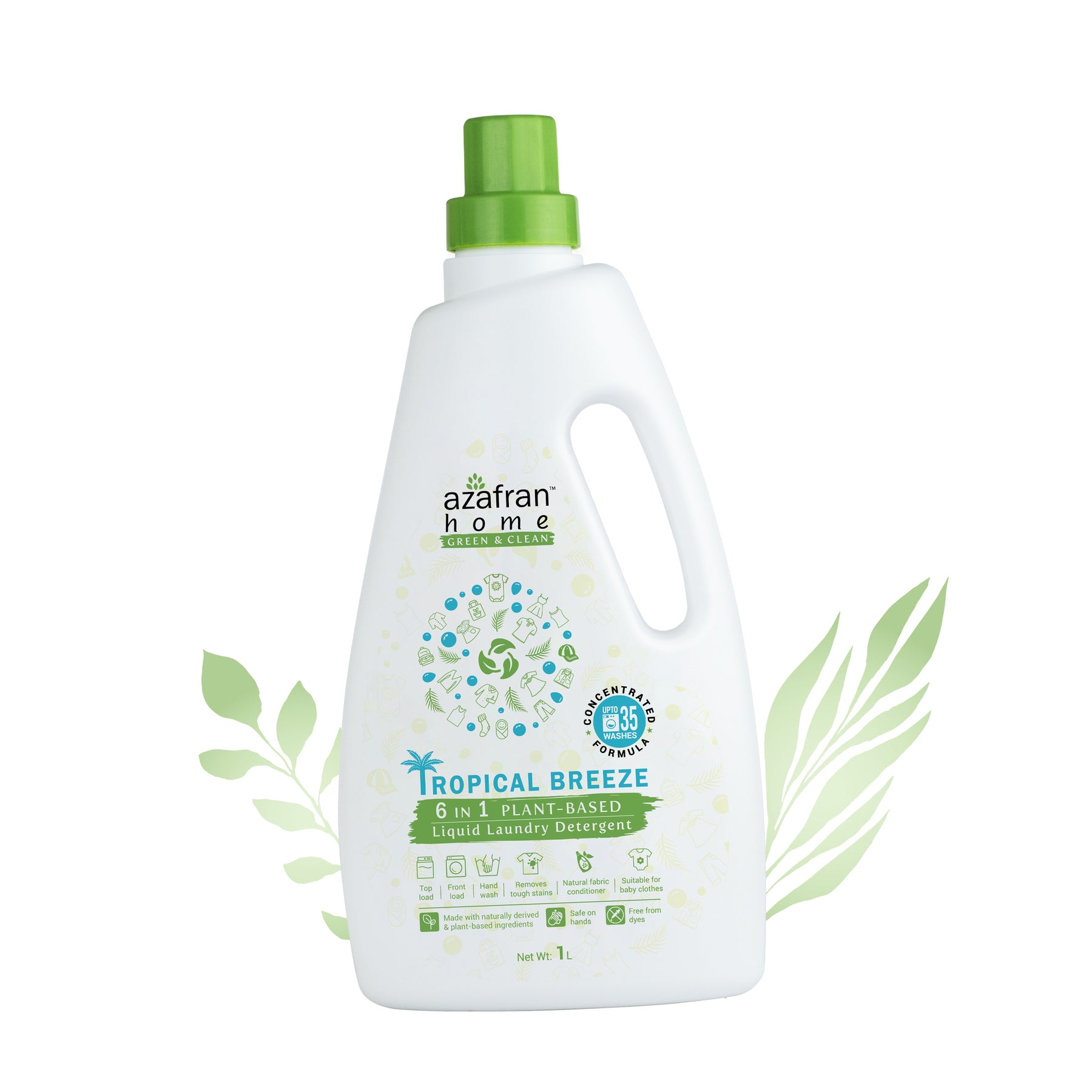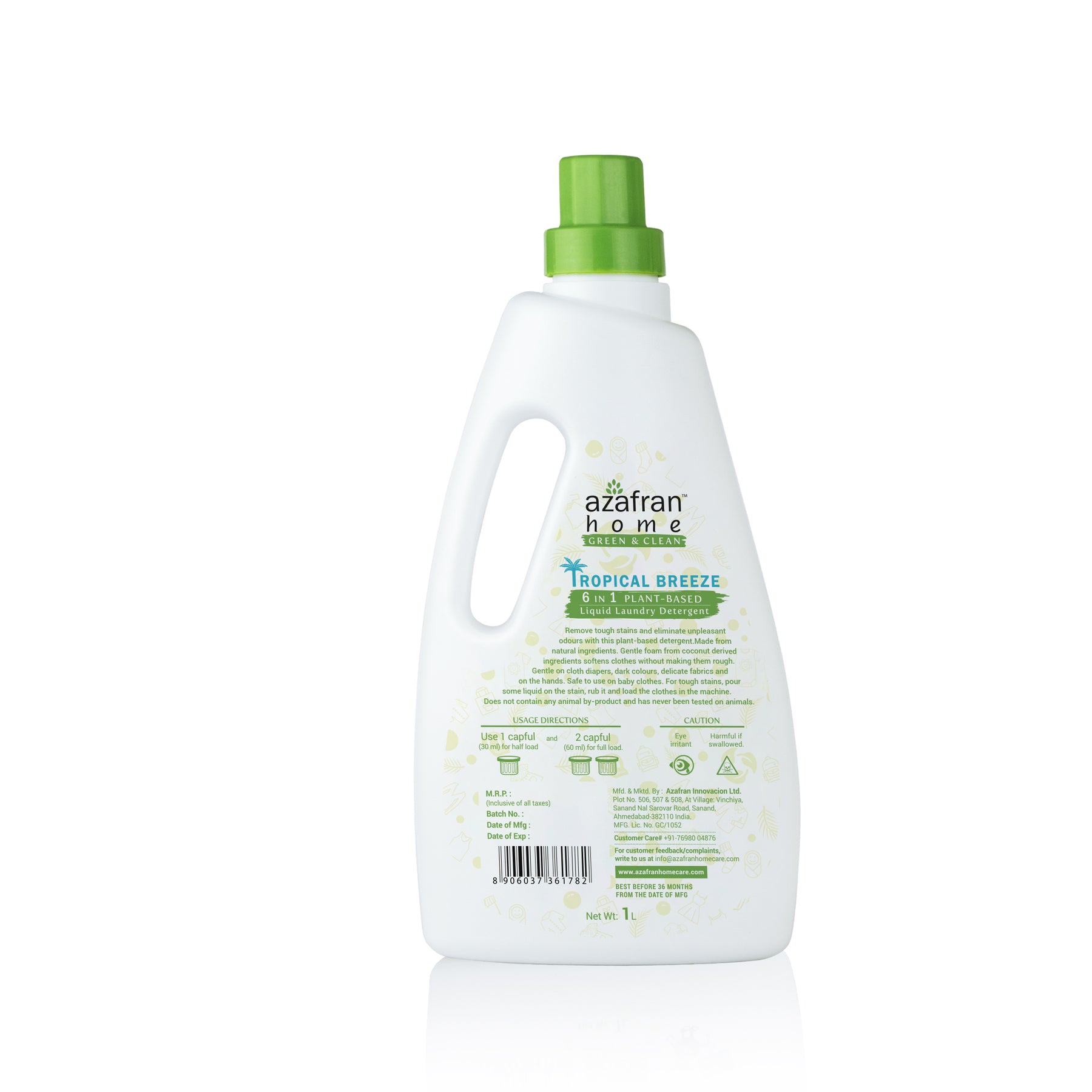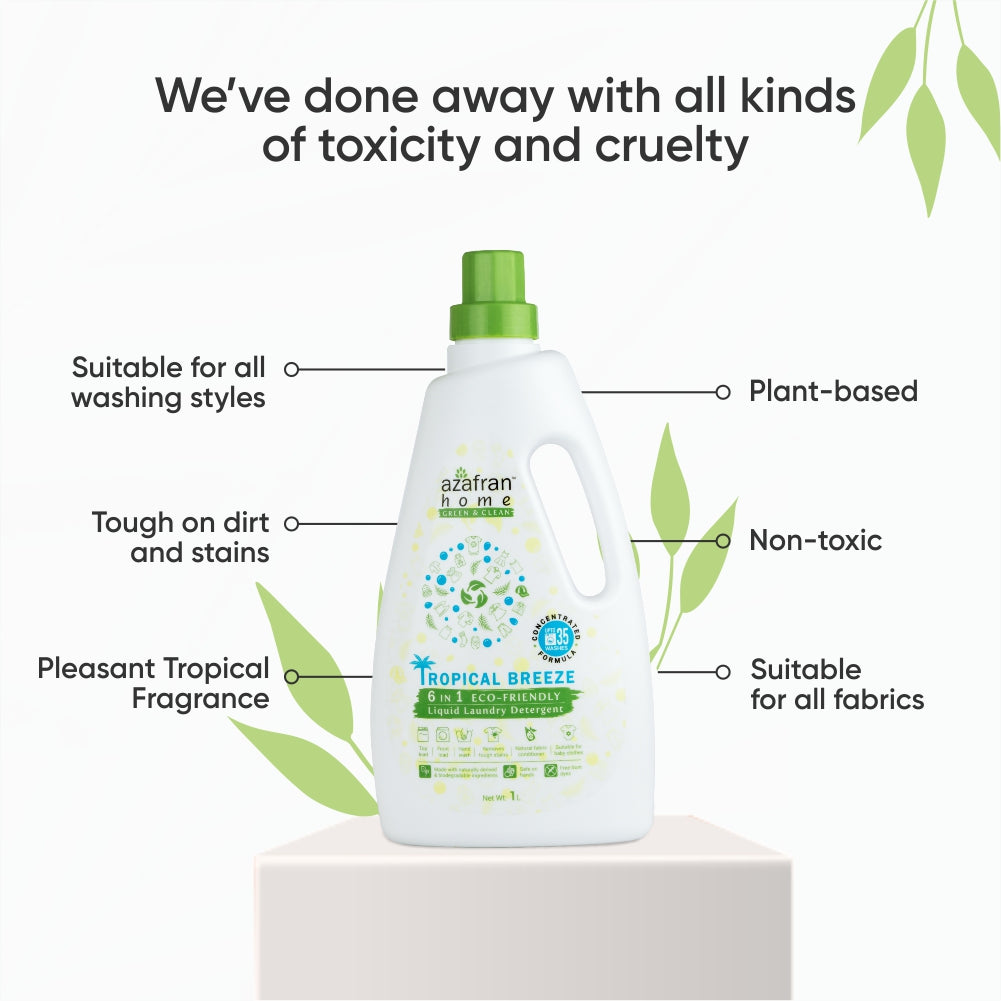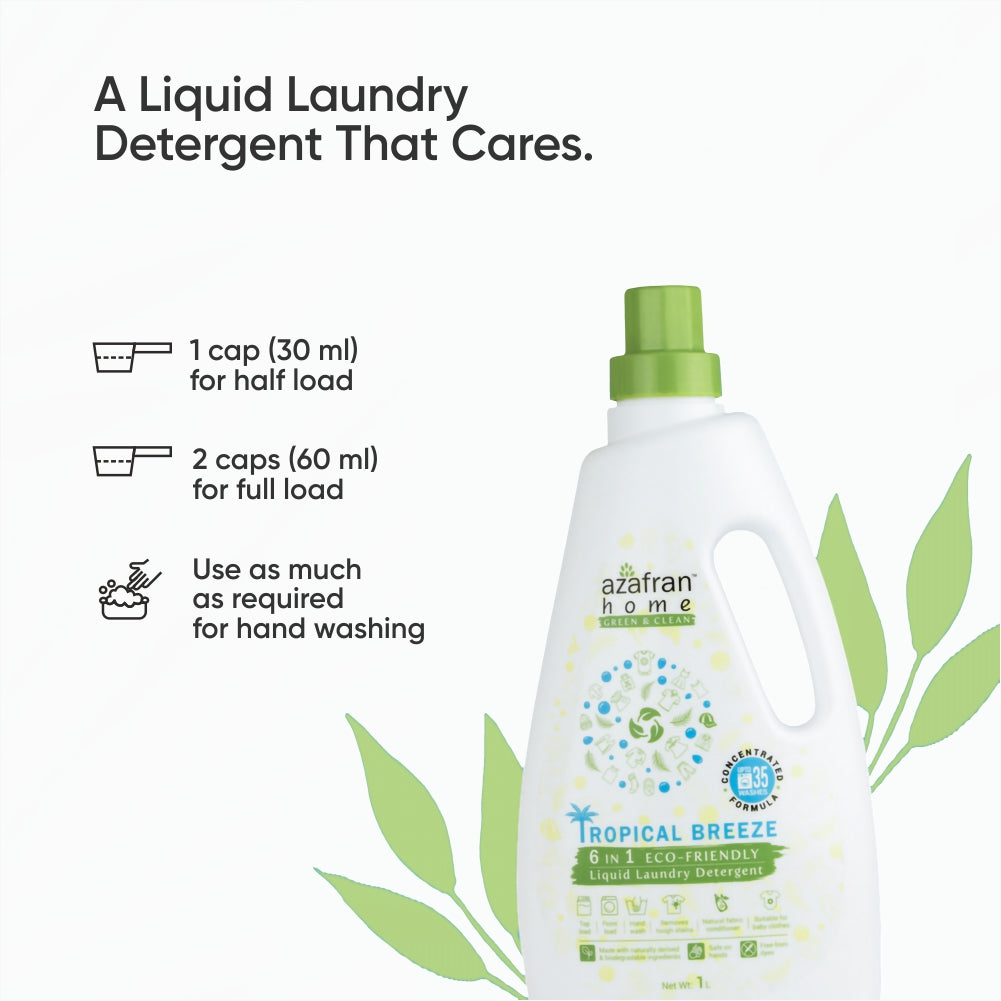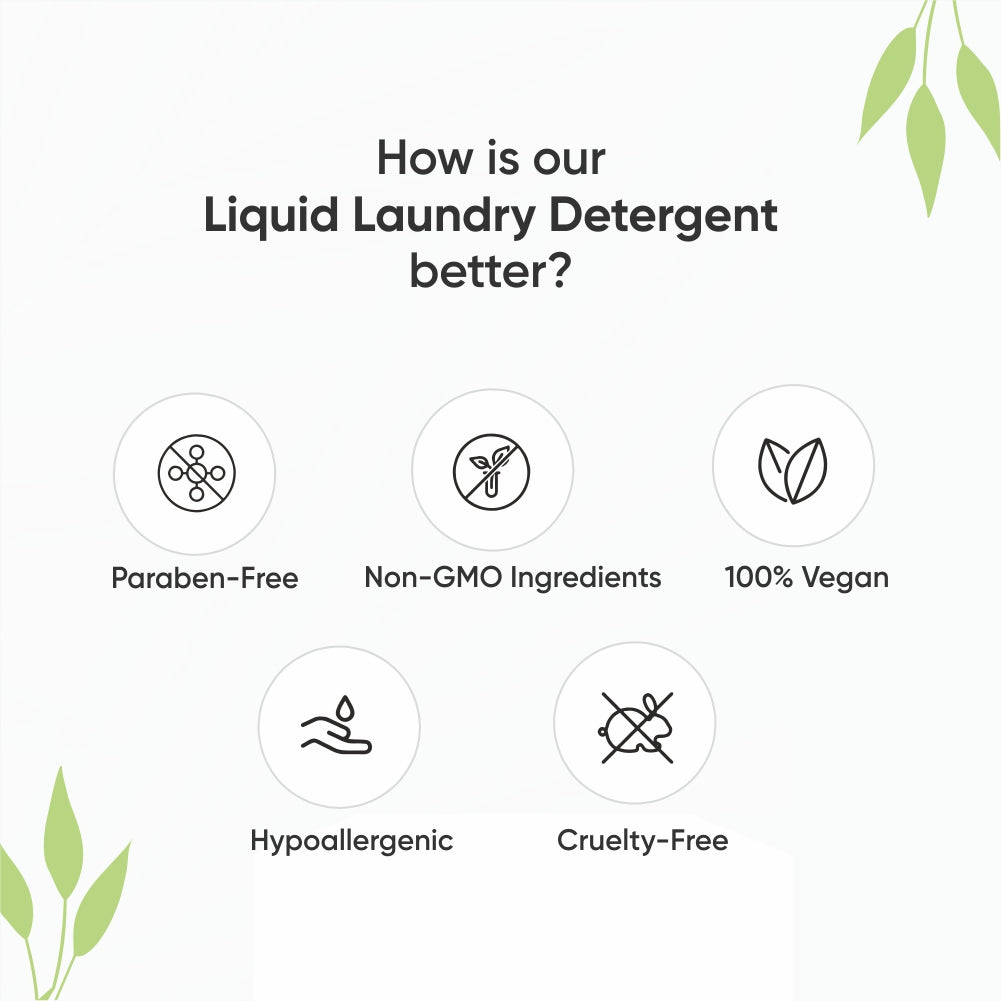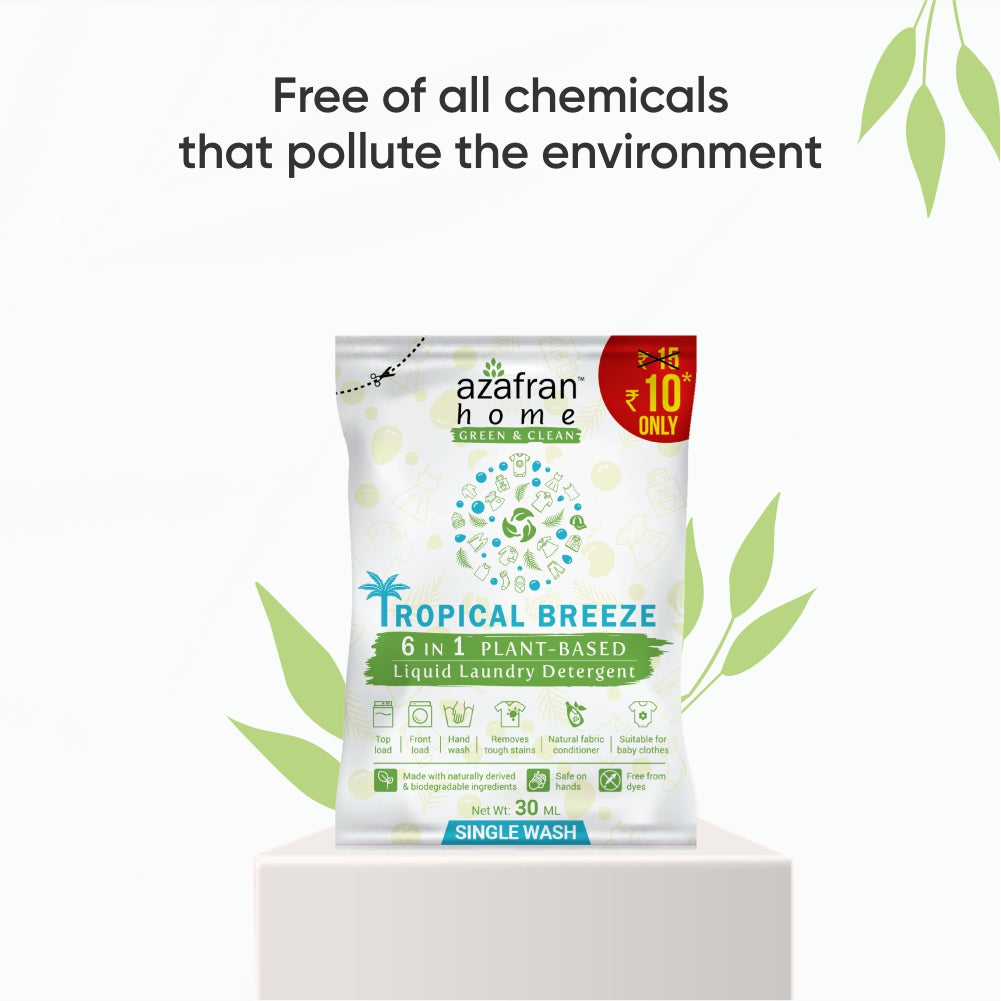 Tropical Breeze 6 in 1 Plant Based Liquid Laundry Detergent
• Made from naturally derived & biodegradable ingredients
• Non-toxic & gentle on all kinds of fabrics
• Safe for skin and baby's clothes & toys
• Refreshing tropical breeze fragrance
• Suitable for all kinds of washing machines & manual hand-washing
• Vegan, Paraben-free, Non-toxic , Cruelty-free

In stock
Ever thought where all the dirt and chemical ridden water from your washing machine goes? It mixes into the ocean and harms the marine life. It's time to get conscious about how we do our part in being kind to our environment lead a sustainable lifestyle. We understand this dilemma and therefore we have come up with a uniquely formulated liquid laundry detergent that's not just kind to your skin and clothes but also to the planet.
Your search for a liquid detergent that's tough on stains but gentle on the environment ends with Azafran's 6-in-1 Eco-friendly Liquid Laundry Detergent. With a refreshing fragrance of  tropical breeze, our liquid laundry detergent is eco-conscious and also cleanses your clothes effectively. Made from eco-friendly products, this liquid washing detergent creates a gentle foam, eliminates unpleasant odours and removes tough stains. Not just that, this liquid detergent is gentle enough to be used for  baby's clothes, cloth diapers, soft toys. It is also gentle on delicate fabrics, as well as on the hands making it an all-round cleaning agent for your clothes and linen. Azafran LLD  is vegan, natural, organic and cruelty-free for your conscious and beautiful life!
Why do we say its 6-in-1?
Plant-based

: Azafran 's Eco-friendly Liquid Laundry Detergent is made from plant-derived and biodegradable ingredients which make it safe and gentle.

Suitable for all kinds of washing:

Our Liquid Laundry Detergent is versatile to be used in all kinds of washing machines be it top load, front load, semi-automatic and even manual hand-washing. 

Non-toxic Formula

: It is made from environment-friendly ingredients which makes it toxin-free and harsh-chemical free which makes it ideal for woolens, silks and all kinds of fabrics including baby-laundry.

Tough on Dirt & Stains:

It is uniquely formulated to be tough on stains, especially with added topical treatment.

Pleasant Fragrance:

Its refreshing and pleasing fragrance remove

s

bad odours and leaves clothes with a fresh and clean feel.

Baby-safe & suitable for all kinds of fabrics:

It is carefully formulated to be safe to use on baby's clothes and toys and delicate fabrics and doesn't fade coloured fabrics.
Use 1 Capful [30 ml] for half load
Use 2 Capful [60 ml] for full load