Walk-in to the world of Azafran at our Flagship Store in Ahmedabad!
We have created a fine shopping experience at our Flagship Store exclusively for our customers. Walk-in to explore every Azafran product up close, test them, get expert guidance, and take home some organic goodness with you. When in Ahmedabad, don't miss to visit us!
 Shop No. G10, ONE 42,
Ashok Vatika, Ahmedabad, Gujarat 380058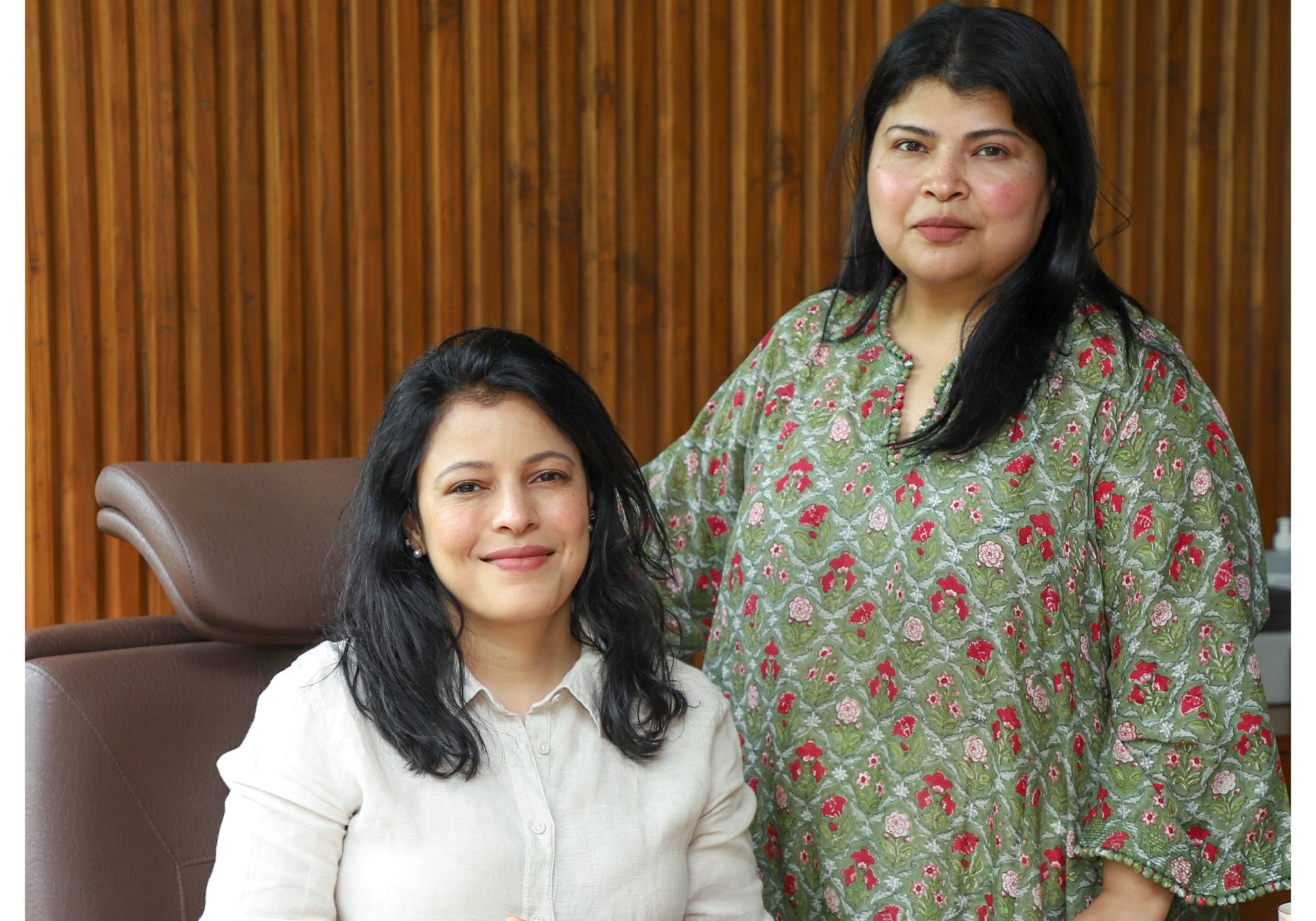 Co-founded by the sister-duo of Mansi Vyas and Aditi Vyas.
The Story Of Azafran
Ours is a story of innovation. We decided to innovate the way our farmlands were used back in 2007 and began creating an ever growing network of the most talented and hardworking farmers dealing in oils, spices, grains and more through organic farming. Soon, we converted our farmland into eco certified, resulting in all our produce being 100% organic. We were the first in India to get this certification! 
 Speaking of firsts, we were also the first company in India to introduce eco-friendly plant-based laundry detergent. Our eco-friendly liquid laundry detergent is Ecocert® certified. We kept innovating with various organic raw materials grown at our sprawling farmlands to create 100+ products in various categories of skincare, haircare, baby care, wellness, home care and what not! Azafran is proudly making organic the way of life for our customers across India and around the world. Our strong belief in being honest and transparent has garnered appreciation and respect from our valued patrons.
We welcome you to a world of organic goodness! Let's celebrate the pure bounties of nature!
Read what makes our customers keep coming back to us!
Excellent Product. Suitable for all types of skin. My skin is sensitive but still I am using it since last three years without any problem! So buy it without any hesitation!
Was apprehensive about going green with my laundry. One major concern was the smell that most eco wash had reported. However, I am extremely happy and content with this product. A little goes a long way. Definitely purchasing it again.
Most important thing about this liquid detergent is it is completely non animal tested and eco-friendly. The popular detergent brands do animal testing and also contain phosphate builders which destroy our rivers and lakes. I love this detergent. You only need one cap for a full load and half cap for is enough for half load. Trust me the detergent will last longer. ;) Wink wink.
Have been using this product for more than 4 years now. It's really gentle on skin and prevents pimples.
I bought it for my husband as his face is very oily and very sensitive skin. I highly recommend it.
Connect with us on Instagram!